Matthäus (der Ältere) Merian
Basel 1593 - Bad Schwalbach 1650


Matthäus Merian the Elder was born on September, 22, 1593 in Basel and is one of the most important copperplate engravers and publishers of the 17th century. He died in Schwalbach on June 16, 1650.
As a young man, Merian first learned the glass painting craft, but soon turned to etching. It has been proved that he was Dietmar Meyer's apprentice in Zurich from 1610, but in 1611 he was already working for the Duke of Lotharingia. From 1612 to 1615 Merian was working for the French court before he returned to Basel. After trips to Swabia, Augsburg and maybe Nuremberg, Merian began to work for Jan Theodor de Bry's (died 1623) publishing company in Oppenheim, and later became his son-in-law.
Together with de Bry, Merian subsequently worked in Heidelberg for 2 years, before he returned to Basel with his family in 1620. Together with de Bry, Merian also published "Große Reisen" and "Kleine Reisen" which were partially furnished with illustrations.
After moving to Frankfurt in 1624 Merian mainly worked in the publishing business and focused his etching on cover illustrations for the books he published, several fliers and paintings for the Habsburg royal family.
Matthäus Merian became famous for the cityscapes he produced for Martin Zeiler's "Topographia Germaniae" from 1640, which have a high documentary value. For the first 12 volumes he produced 1012 copperplate engravings based on his own and other drafts. His illustrations for "Theatrum Europaeum" (5 volumes with 545 copperplate engravings) are also very famous.
After his death, both works were carried on by his sons Matthäus the Younger (1621-87) and Kaspar (1627-86). In his second marriage he also fathered the famous plant and insect painter Maria Sibylla Merian. Merian was a book illustrator and author of over 700 individual sides with topographic illustrations.
Merian designed covers and illustrations for "Icones biblicae" (1625-27), "Historische Chronika" (1630), "Archontologia cosmica" (1638) by J. L. Gottfried, as well es Zeiler's "Topographia Germania" (first 12 volumes with 1012 illustrations), which were often made by his staff.
There are only a few figurative pieces, mostly etchings copying the models of others. Furthermore there are about 100 established drawings by Matthäus Merian, which are mainly landscapes or topographical views.

Matthäus Merian
Topographiae Galliae, Teile 5 bis 13 in 1 Band
1,998 $
Details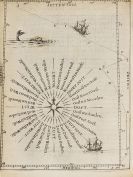 Willebrord Snellius
Tiphys Batavus. 2 Beigaben
2,664 $
Details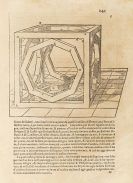 Pietro Accolti
Lo inganno de gl'occhi, prospettiva pratica
3,108 $
Details